This is Basil's Story
You will notice the background to this page; it is a photo of Basil at Christmas 2006. A special thanks to those of you that are avid followers and friends that have called and kept up your prayers for the return of Basil. Basil was stolen on Friday, March 30,2007 in Port St. Joe, Fl. Flyers, ads and word of mouth were spread about his abduction right in front of neighbors. Then family and friends began the search for Basil. Basil had lived with Clay Keels, who owns Petals By the Bay, florist and gift shop in Port St. Joe, Fl. along with his doggie brother, Sage. The two Maltese Poos4U brothers are litter mates and would go to work with Clay. When he went out of town and could not take them with him, then the boys would stay with us here at Poos4U. On March 30th, Basil and Sage were going to be visiting us for the weekend. Clay's family were going to his home to bring the boys here. The boys had broken out of the house through the enclosed porch, dug under the privacy fence and were playing with a neighbor's dog. The neighbor was on her front porch with Sage when Basil went toward the road. A lady stopped and picked up Basil right in front of the neighbor and was heard saying" I've been wanting a dog like this" Sage went back home the way he had gotten out. You can't imagine the complete downward spiral that began in Basil's life.
Basil was returned to Clay the evening of June 4th. I received a frantic, emergency phone call from Clay. The condition of Basil was inexcusable! I was 30-40 minutes away and could not make much sense of of the situation. Clay had become incoherent. I was able to contact a dear friend of ours, Sonjia Raffield that knows Clay and lives in Port St. Joe, Fl. She grabbed her Nutri-Stat, some wet dog food, a towel and other necessities and dashed to assist Clay. Once at Clay's home and apprizing the condition of Basil and the entire situation, Sonjia asked me if I could call our Vet in on a emergency. Say no more, the call was made and I would meet them at the Vet's office. In my call to the Vet, I let them know this was the stolen puppy from 2 months ago, he was shaking and had been in a house fire within the last 12-24 hours.
Sonjia gave Basil some Nutri-Stat, got Clay and him in the vehicle and drove them to Panama City, Fl to Parkway Animal Hospital, where Dr. Karen Dusenberg was waiting for our arrival. The vision that arrived in the body of Basil was not recognizable. I spoke to him, looked in his eyes and said, yes, this is Basil. I proceeded to give him some Rescue Remedy and out came Dr. Karen. The exam to follow and site of Basil would break even the hardest of hearts. Basil had lost 30% of his body weight, had been shaved to make him unrecognizable. Yes, the people knew that Basil was Clay's dog! But worse yet, he had lost 90% of his hair due to flea infestation, malnutrition and from the fire he had just hours before been rescued from. The family had left Basil in their house to burn in the fire. A family member got Basil out of the fire and took him to Clay. This family member had known whose dog this was and admitted he should have rescued him sooner. But back to the Veterinarian exam.
Dr. Karen was positive in her assessment of Basil's lungs. She was getting good, clear sounding lungs. His temperature was just fine. The flea bites would heal along with emotional wounds over time. She would keep Basil overnight to keep an ear on his lungs and make sure no inflammation occurred, but felt he would be fine. She would start him on an antibiotic to keep the lungs from any build up of fluid and it would also help with the wounds to keep them from becoming infected. To lighten the spirit, from the horror of this once beautiful coated Maltese, she stated" He won't make the 4th of July photo, but he'll be great for Thanksgiving!" This sure helped Clay feel better about his beloved Basil. Dr. Karen Dusenberg was not only caring for her patient, but caring for her patient's parent as well. After settling Basil in for his night at Parkway Animal Hospital, Dr. Stephen Collier checked in on Basil and reported he was in the back "Chowing Down". This made everyone feel even better. Can you imagine after 2 months of being gone, just to get your beloved pet back and have to leave them in a strange place overnight? Everyone reassured Clay that this was the best course of action. Completely overwhelmed and exhausted, Clay conceded, with reluctance to leave Basil for the night in the care of the Doctors.
It is now Tuesday, June 5, 2007. A 9:30 am call to Parkway Animal Hospital reveals that Basil is ready to go home. He spent the day with Clay and his doggie brother, Sage at work and then at home. He is still shivering a good bit, we are hoping a T-shirt will help with that. He is constantly in the arms of Clay. I don't think either one wants the other out of their site for even a moments time right now.
It is hard to comprehend how someone could treat a precious life with such disregard as the family that stole and kept Basil for so long. We are praying for a prosecution in this tragic crime. It will take Basil some time to recover from the physical and emotional neglect that were inflicted upon him. He has a dedicated human guardian in Clay, his doggie brother, Sage and the support of family and friends to help him heal.
Please make sure your pet is micro chipped. You can request this from a breeder like myself or have your local vet micro chip your pet. It is a quick and easy process. I use Home Again which is recommended by the A.K.C. and is scanable in most major cities in foreign countries as well. http://www.homeagain.com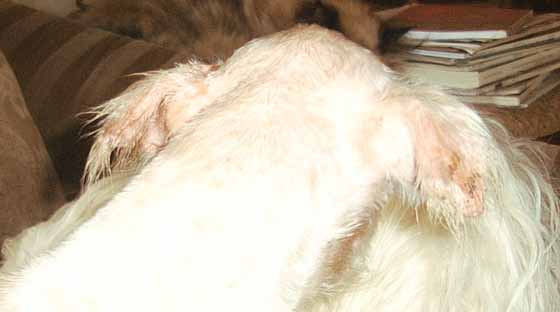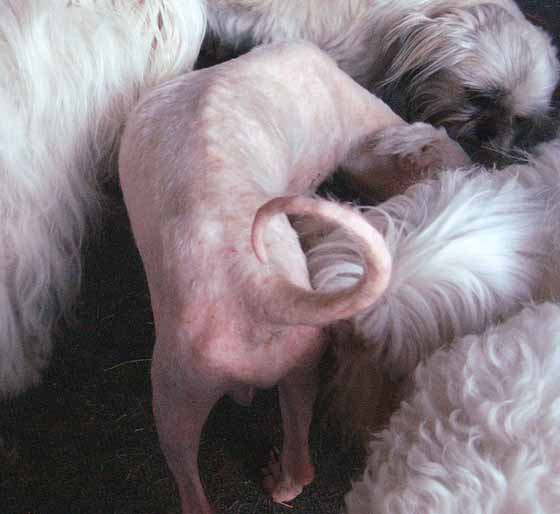 If you are traveling or have your pet with you outside of your home, then make sure their collar or harness has their name and your phone number to contact. A lot of us don't leave collars or a harness on our pet at home, so make sure you put their identification tags on them for any outing. Most pet stores have a tag machine that costs between $5.00-$6.00 to have a small tag made immediately with name and phone number on it. If your breeder micro chips your pet, then make sure your veterinarian has the micro chip number in your pet's file for reference. Keep a current photo of your pet in your vehicle or wallet in case they get loose. If your pet is missing, then contact your vet and other local vet clinics immediately. Fax them or drop off flyers with your pet's photo and contact information and any medical concerns. Local animal shelters can be over worked, so go and look at your local shelter for your pet. Let neighbors, USPS carriers, Fed Ex and UPS drivers know about your missing pet and give them a flyer with their photo. Some pets are shy and won't come up to strangers, but will be seen. Even pizza delivery people will see a loose pet in the evening or at night when you are not looking for them. Ask for help. Most people are more than willing and truly concerned with helping you find your pet. Act fast. The sooner you look and notify others, the more widespread the search and the faster the results. Never give up. I know of one Pomeranian here in Bay County that was reunited with loved ones after 5 years. Yes, that dog was micro chipped. Yes, that is how she was identified and returned. Place ads in your local papers. Most papers will allow a lost ad for free. Look in the found section also, in case someone has found your dog. I have found many dogs over the years and contacted local vet clinics and animal control and have been able to reunite the pets with their family. Also, if you see a wandering pet or a neglected pet, then don't expect someone else to do something about it. Take action and make a difference yourself. In Basil's case, everything possible had been done to locate him and spread the word, through friends, flyers, ads and the internet. In the end it took the conviction of just one person knowing Basil was stolen from all the widespread information to take the long needed action to return Basil home. It takes only 1 person and 1 small act to make the world a better place. You can do it by just being concerned and taking action. Every day, those small kind acts just make a ripple affect of making this world a happier and more caring place. Help you local animal shelter. They are always in need of help, donations and even supplies, like paper towels, bleach and food. Call them and ask what they need, or VOLUNTEER YOUR HELP.
KINDNESS:
NO ACT OF KINDNESS, NO MATTER HOW SMALL,
IS EVER WASTED.
AESOP
If you are an animal lover and are reading this, then please keep Basil and his family in your prayers. Any assistance at helping to convict these people for this terrible crime is appreciated. Convey your care and concern to Clay in a note or card that can be sent to:
Petals By The Bay
c/o Basil or Clay Keels
208 Reid Avenue
Port St. Joe, Fl 32456
850-227-1564
A Special Thanks to Sonjia Raffield for being available, keeping her wits about her and coming to the rescue for Clay and Basil. In a crisis you always know your true friends.
A Great Thanks goes out to 2 dedicated Veterinarians at
Parkway Animal Hospital
850-763-8387
Dr. Karen Dusenberg & Dr. Stephen Collier
No matter how long or hard their day, they are always there when you need them for an emergency. Not many Veterinarian clinics can be depended upon like Parkway Animal Hospital in those late night emergency hours. And believe me when I say, I've had more than my share of emergencies over the years which are rarely during normal working hours. Trying to find a Vet willing or even accessible to take a call, let alone come in during those emergency hours is rare and sometimes impossible. So, for that kind of dedication, I know they are precious gems in the world of Veterinarians.
PURPOSE:
MAY IT BE SAID, WHEN THE SUN SETS ON YOUR LIFE,
YOU MADE A DIFFERENCE
We will be keeping you updated on Basil's progress.
June 7, 2007: Basil and Sage are here at Poos4U for a few days. We all felt that being with his Mom and other dogs he has always been around since birth would help him bounce back faster. His brother Sage was elated to be here and get to play. We have to realize that Sage was effected by this as well. He has been without his brother and play buddy for over 2 months. Basil and his Mom, Sugar instantly bonded at their arrival. The vivacious and vocal Sugar sensed Basil's state and took on the role of calm and caring Mom toward Basil. This let Sage be able to really let loose and play with the other dogs. It is amazing the comprehension that animals possess. I am treating Basil's skin condition. He has been itching alot. His scabs from the flea bites are going away, but there are still bites and bumps all over his body. He hung out and around the other dogs, but after supper and a skin treatment bath he was worn out and quickly sound asleep. Tomorrow will be another day of progress and healing.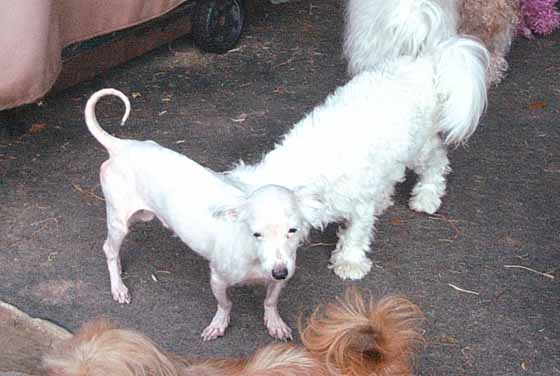 June 11, 2007. Clay has come to pick up Basil & Sage after several days of rehabilitation at Poos4U. Basil's skin is no longer inflamed. The only thing that has worked for his skin is a homemade concoction that I made for him with Tea Tree Oil, Lavender and Rosemary in a Olive Oil base. We are massaging this into his skin several times a day to help heal, stop the itching and keep his skin from drying out. He is not gorging himself when eating. He is eating with the other dogs and having no food aggression. Last night after supper Basil barked for the first time. He was feeling like one of the gang again. After an update on Basil's progress with Dr. Collier and the supplements I was giving him, we are sending Basil home with the following. He is on Salmon oil for the Omega fatty acids, vitamin E for the skin and which can be pulled out of the body by fish oils. He is taking Calcium/Phosphorus, of course for his bones, enzymes to help digest food and utilize vitamins and minerals and good bacteria, to aide in digestion and keep his intestinal tract in balance while on antibiotics. We are starting to see a little more than peach fuzz on his face and torso. He was so excited to go home with his dad.
June 13,2007. Basil and his brother Sage actually woke Clay up with their playing last night. He set them off the bed and let them play away. He said they are acting more like how they use to be before this tragedy. There should be an arrest this week concerning this case. Basil was intentionally left in the burning house to die and the remains of a cat were found in the house. The insurance company will have to pursue the arson. Please, please report animal neglect and abuse. It is a crime and is punishable by law.
Below is a photo of Basil on 6-11-07, with Clay Keels and his brother Sage.
This is after 8 days of intensive care and nutrition.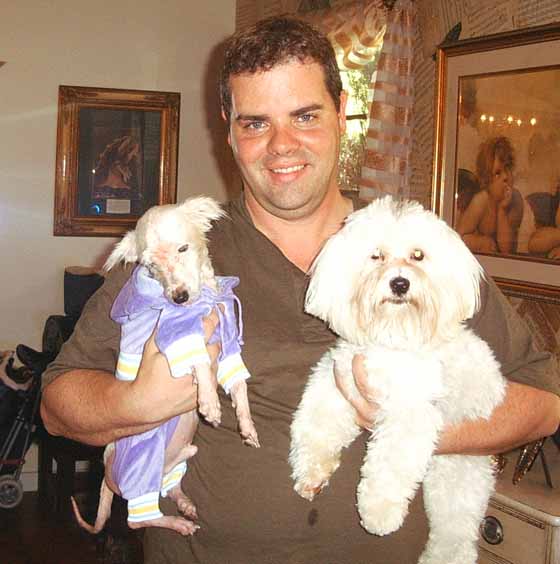 Below are photos of Basil before being stollen.
Pray for his complete recovery and just know that he will once again look like the Magnificent Maltese in these photos.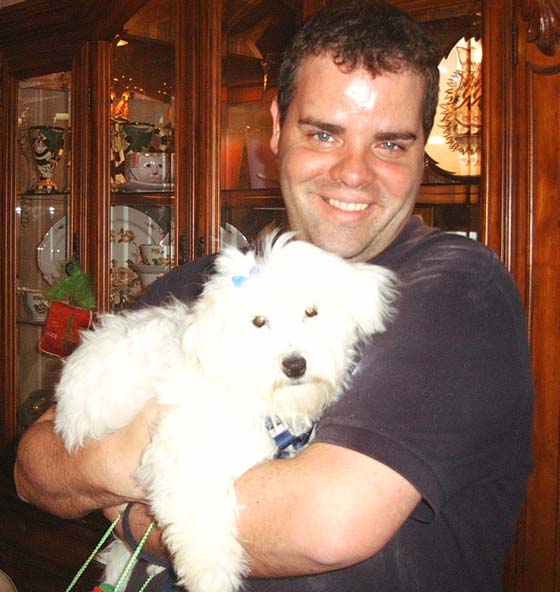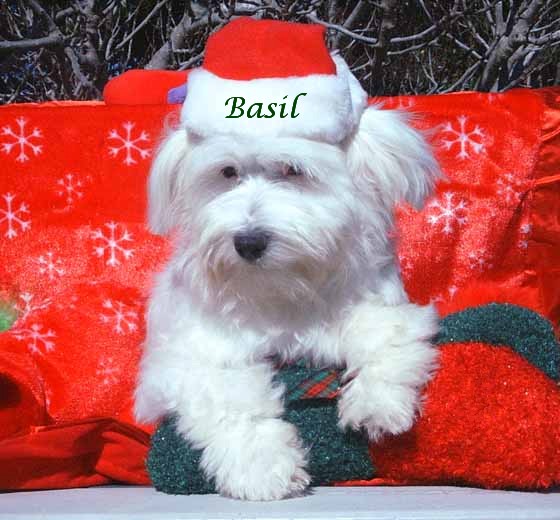 The calls and e-mails are coming in from all of you about Basil. Thank you for your continued prayers. Here is an e-mail from 6-06-07
Just read about Basil's return. I have been praying for him and so thankful he is home, but my heart was broken by his story. I will certainly be praying for his recovery both physically and emotionally. I will get them a card in the mail.
Thank you, your vets and all your animal friend lovers for all you do for God's special creations.
_________________________________________________________________________________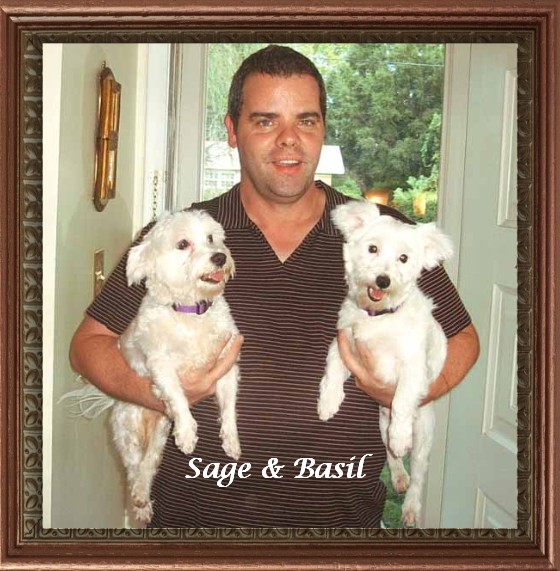 9-24-07 Basil & Sage got to spend 4 days with us this last week. They had a blast. They played with everyone and dug in the dirt. Basil kept barking from time to time as if to say" Look at Me, Look at Me". You could just tell how happy he was to be visiting and feeling like his normal healthy self again. The people that stole Basil are on trial in Port St. Joe, Fl. They have a new court date of 9-26-07. Pray for justice in this case. You will notice that Sage is in a shorter cut than usual. This has the boys with their hair at the same length. Basil is so full of energy and an exuberance for life. Sage still makes sure that Basil eats enough and the two are inseparable. Dogs are so resilient and forgiving. They most definitely live in the moment, which we as humans could learn a lot from this practice. Below is a candid photo of the boys, all dirty and digging in the yard with some of our other dogs. This was before getting groomed from the photo above. Basil is in the foreground and Sage in back. You can see the big hole they had fun digging. This is a designated digging spot we allow for the dogs. I am a firm believer in letting them play like dogs and enjoy life. They can always get a bath.
Life's too short for them to stay pristine all the time, and besides....every dog knows life is messy, so you might as well have fun!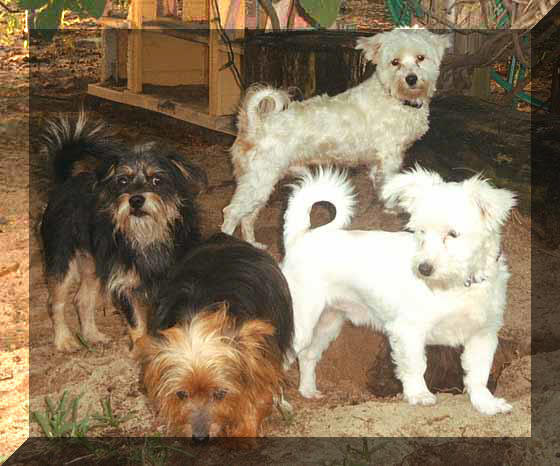 11-20-07 Basil now looks just like his last year photos on this page at Christmas. He and his brother Sage spent the day with us and got all groomed up for the Thanksgiving Holiday.
March 2008 For those of you following the Basil story know that there is still Justice in America. The man that was convicted for the theft, mistreatment and attempted killing of Basil by setting his home on fire is making restitution. He is having to pay in actual money restitution to Clay Keels for the abuse of Basil. Clay received his first check this month. The man is required as part of his community service to work with animals, possibly at local shelters or rescues. Another paws up for all those who helped bring this case to light and see it through to the courts for prosecution. God placed upon us the duty to be guardians of the animals and this earth. If we as humans do not guard and protect the animals, our wildlife and environment then there will be nothing left on this earth to sustain any of us
The only remimder of all that Basil went through is the now beige spot in the middle of his back. He never had this before. Clay says it just gives him character. We just thank the Lord for Basil's return and his complete recovery. His abusers were charged and prosecuted. Basil is his fun loving and healthy self with a beautiful coat once again.
UPDATE 2012. due to personal issues from Clay, Basil & Sage came back to Poos4u we have had them neutered, blood tested and up on all their shots and were looking for the perfect family for these amazing Maltese brothers. Well in January 2013 the wonderful family of Edwin & Montana Thomas with their 3 children were sent to be blessed by Basil and Sage and make them part of their fantastic family. We are sad to see these boys that have been so much a part of Poos4u leave us, but are so happy for the Thomas family. A new happy beginning for the Spice Boys as they are so affectionately called. Below are recent photos of the boys and the Thomas family.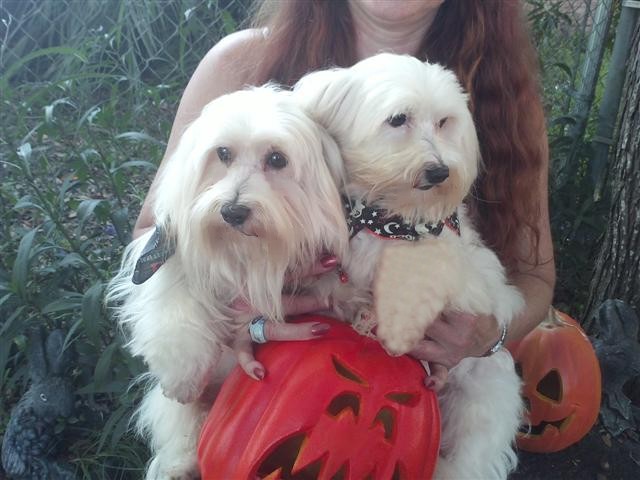 Sage on left & Basil on right, Halloween 2012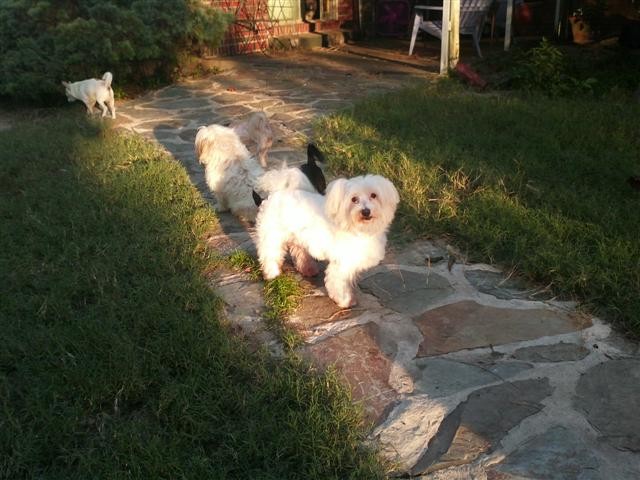 Basil in November 2012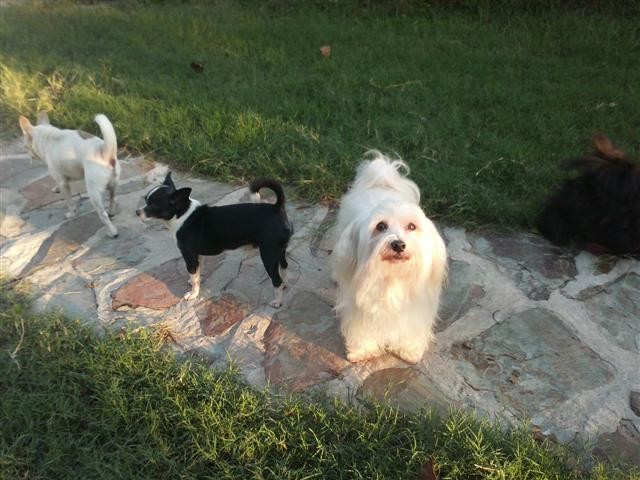 Sage in November 2012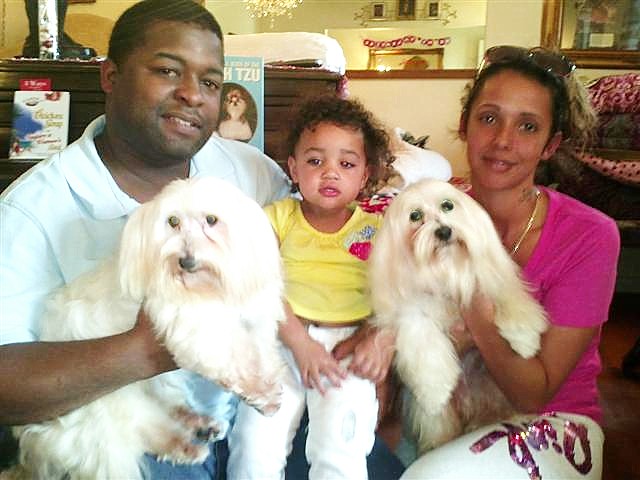 Basil & Sage with the Thomas family January 2013
They tell us the Love, Love, Love the Spice Boys and they are fantastic with the kids.
For an updated list of any cat or dog recall food
click on the link below:
http://www.fda.gov/oc/opacom/hottopics/petfood.html
If you are tired of recall food and know that preparing food for you pet yourself is better then go to our recipe page below for more info:
Would you hire a pet detective to find your missing dog?
65% Yes, I would pay anything to get my dog back.
16% Yes, if the cost was reasonable.
12% Maybe. It depends on the situation.
6% No.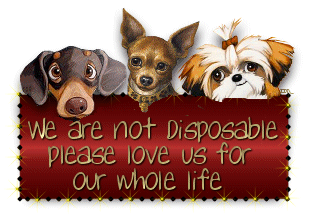 Poos 4 U
850-874-2445
This website and it's contents are protected under copyright and are the property of Tami Foster 2005-2013