2012 Poos 4 U
Precious Pampered Companions Calendar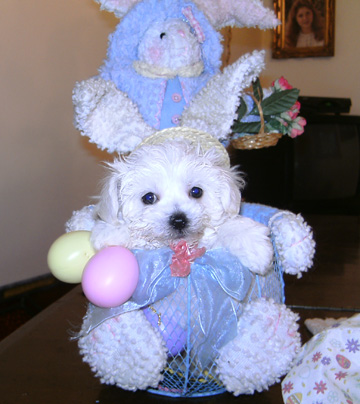 We are accepting photo applications of your Poos 4 U puppy for our very first Poos 4 U calendar. This is something I have been wanting to do for several years. Margaret & Ken Corbin that own Bay Printing have one of our Precious Poos 4 U MaltiPoos and take care of our printing needs. Margaret will be working with me on this project. We are projecting to have the calendars ready between Thanksgiving and December 1st this year. These will make great Christmas gifts and I am sure if your dog makes it into the calendar you will want all your family to have a calendar or two.
The only requirement is that your photo is submitted by September 1, 2011 and that is is a puppy or dog is one from Poos 4 U.
So, get started and get creative. We are looking forward to your photos. There will be our cover dog, 12 monthly calendar dogs and 12 smaller photos each month. We will be making room for 25-30 photos in the calendar.
E-mail to the below address or just click below to send your photos to Margaret Corbin at Bay Printing 769-9061
Bay Printing services a multitude of printing needs , from business cards, flyers, booklets for our teachers, flyers and of course special projects. Perhaps you would like something special made with your Poos 4 U puppy photo. Give Margaret a call @ 850-769-9061
You already have something in common... a Poos 4 U puppy... so you are actually related. A term we use around here is if you have a Poos 4 U dog, then we are dog-in-laws.